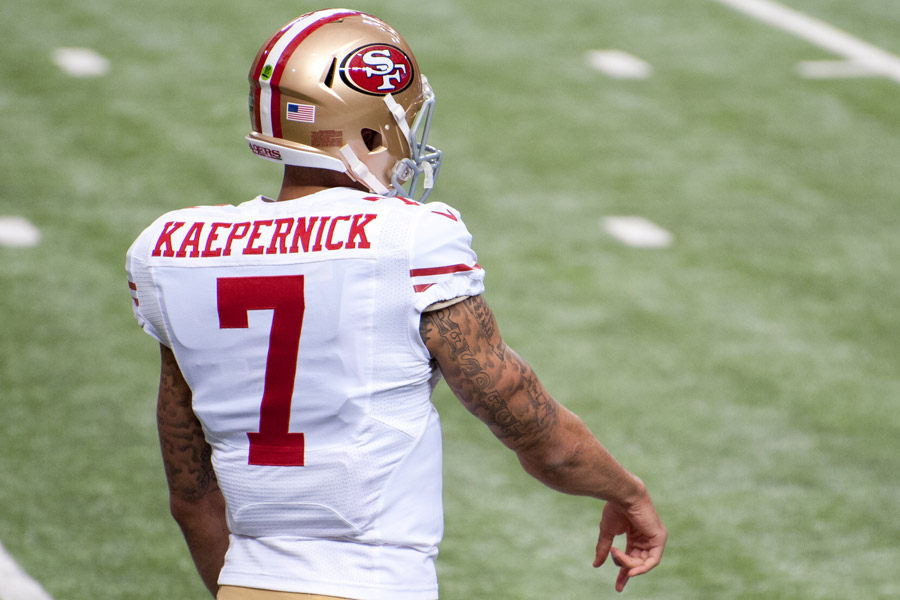 With all the recent and questionable quarterback signings around the NFL, there is one talented man who still remains unsigned. This man is Colin Kaepernick.
Kaepernick made headlines in 2016 when he refused to stand for the national anthem, sparking a trend around the league of team and player protests. Teams would continue to protest into the 2017 season, but one man was noticeably missing, and that was Kaepernick.
There was talk in the 2017 offseason of the possible signing of Kaepernick, but nothing ever materialized after he said he would continue to protest against police brutality and racial inequality. Teams are still afraid to sign him because of the possible distraction he could cause, but there are a lot of less talented quarterbacks getting signed, while Kaepernick is still a capable first or second option.
Kaepernick was drafted by the San Francisco 49ers in the second round of the 2011 draft and would end up sitting behind established quarterback Alex Smith. Kaepernick would be thrust into the starting role in the middle of the 2012 season when Smith went down with a concussion. Kaepernick would have a magical run in the playoffs, beating Michael Vick's single-game rushing record for quarterbacks and breaking the team's postseason rushing record. Kaepernick would lead the 49ers to a Super Bowl appearance against the Baltimore Ravens, where they lost 34-31.
Kaepernick would become a model of consistency at the quarterback position, which the franchise really hadn't seen since Steve Young and Joe Montana. The following year he would take the 49ers to the playoffs, only to lose to the eventual Super Bowl Champion Seattle Seahawks. All of these great accomplishments and amazing stats just beg the question: Why isn't Kaepernick on an NFL roster?
Kaepernick has proven he can play and play well with a good team around him, but teams still continue to sign people like Blaine Gabbert and Sam Bradford. Not to mention the fact that old broken down Robert Griffin III was recently signed by the Baltimore Ravens — despite not being able to stay healthy and not playing since 2016 after being released by the Cleveland Browns. There are even talks of wild man Johnny Manziel being signed by an NFL franchise despite his off-field issues and inconsistent play.
Kaepernick may not be a starting quarterback right now, but he could certainly be a great second option. Of course there's the fear of his protests causing an uproar in the locker room. But like it or not, what he did was absolutely necessary, as police brutality and racial inequality have gone unnoticed for too long, and Kaepernick brought that to national attention.
If Trevor Siemian and Geno Smith can continue to get paid by these franchises, then certainly a more capable quarterback can too. Give Kaepernick a chance.