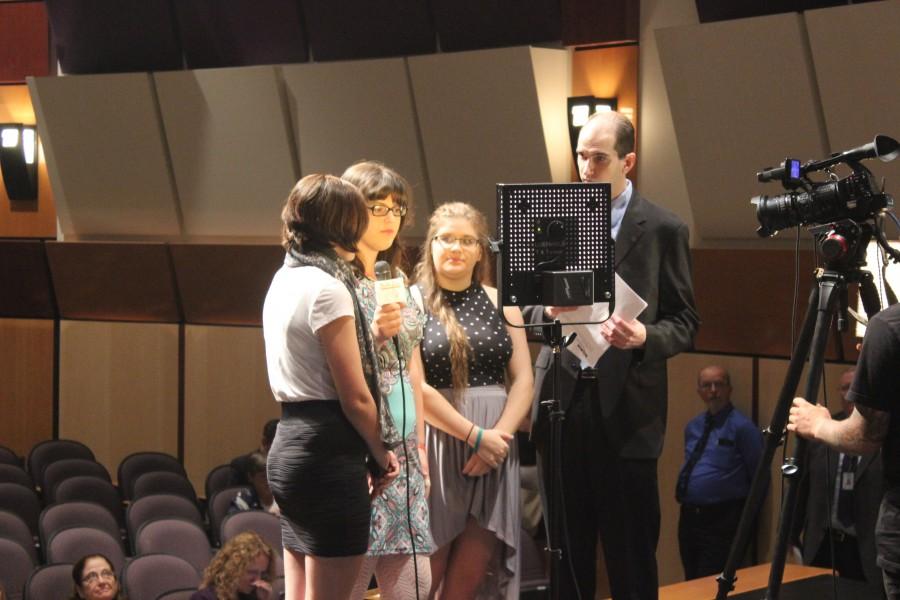 BY EMILY BLYSTONE
Copy Editor
Music and arts education makes a huge impact on students, but securing more funding for the arts will require patience and a concerted effort by political and education leaders.
That was the message delivered during a panel discussion Thursday morning that kicked off the visit by the John Lennon Bus and High School Nation at the high school.
Nationwide, arts education is often the first thing cut during budget shortages, and that trend won't disappear immediately, said Ron Conwell, president of the Education Policy and Leadership Center.
 "It is not going to change automatically," Conwell said. "It begins with relationship building with teachers, PTA, and local legislators."
Arts education teachers should take a particularly aggressive role in defending their programs, panelists said.
"We have very good music teachers," said Dr. Sarah Tambucci, director of the Arts Education Collaborative. "The down side to that is they don't have the time or skills to develop leadership skills that make them more valued as arts educators."
Her foundation puts in place programs that work to improve such skills in music educators and get them involved in local political committees.
Two music teachers represented Baldwin at the panel: high school band director Greg Steele and Whitehall Elementary general music teacher Megan Kraus.
"We are not a fluff subject," Kraus said. "The lessons music promotes — creativity, discipline — need to be known to administration." 
The need to keep music programs alive was emphasized not only by teachers, but by students as well.
"It shapes who you are," senior band member Kate Marze said. "You get away from the work from school, and it is a different kind of challenge than your other classes."
Sophomore Harrison Solenday agreed.
"Music has taught us life lessons and a sense of belonging," Solenday said.
Baldwin's music department is unique in offering a wide variety of opportunities for students.
"Working in the music program here, you see a broad range of diverse people in one environment united," Steele said.
The band and color guard, directed by senior Kalee George and junior Luke Barone, performed at the beginning of the meeting. The drum line played again to close the discussion. 
The panel was held as part of the Lennon Bus tour and the National Association of Music Merchants foundation. It was streamed online to lennonbus.org