When We First Met puts a spin on Groundhog Day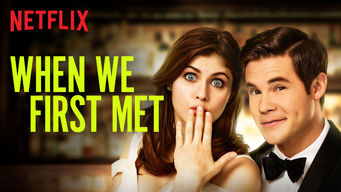 Netflix's new original movie, When We First Met, introduces a quirky character who experiences the unfortunate and relatable situation known by many as the "friend zone."
Noah (Adam DeVine) meets his perfect girl, Avery (Alexandra Daddario), but she sends him straight to the friend zone. For the next three years, he wonders why she didn't fall for him. In a Groundhog Day-esque sequence, he travels back in time to make her fall in love with him.
DeVine, known for his role in Pitch Perfect, provides the best moments of the movie, with his awkward quirks and humorous remarks. His character begs the pity of the audience, as he cannot seem to do anything right to "get the girl," yet he still remains optimistic through it all, which adds an endearing quality.
The movie can feel slightly redundant, since Noah relives the same day over and over again. However, it is interesting to see the consequences to his decisions, as they are revealed the next day when he would wake up, taking a different approach to the time loop concept.
The film properly takes the time to build up the characters and their personalities. However, the ending becomes apparent within the first 20 minutes. Despite this, the movie was not cheesy, just predictable.
When We First Met is not a groundbreaking movie, but it is a simple and entertaining story still worth watching.
About the Writer
Paige Crawley, Staff Writer
Paige Crawley is a senior and third-year staff writer. Athletic, organized, and extroverted are not words that could be used to describe her.