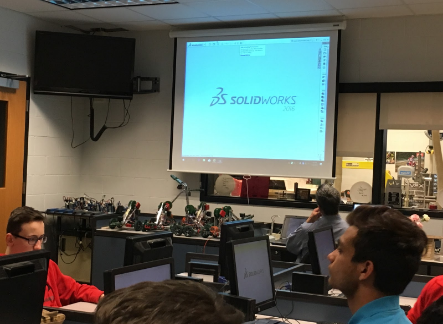 Many students are familiar with the cell phone notification, "You have 20% battery remaining," and the panic that comes with realizing there are still five periods left in the day.
Help might not be too far off, as the fabricating engineering class is working on designing and building cell phone charging stations, and the plan is to eventually place them in various locations throughout the school.
The idea for the cell phone charging stations came from a visit to South Fayette High School, said Chris Ross, who teaches the class.
"They have stations in random areas of the school and kids were using them, so we thought that it'd be a cool idea for a project," Ross said.
Students in the class are using the program Solidworks to help them create 3D sketches of what the chargers will look like.  The first draft they came up with was too difficult to make, so they have been working on a new draft.
"Once we get the draft drawn up and the first prototype made, it will be easier to build the rest of them," senior Caleb Giel said.
The charging station will have cords to support iPhones and android phones.
The current draft would be made out of metal and stand upright.  It would be roughly 20 inches wide and 24 inches tall, senior Brad Friedman said.
"I think this is a good idea because it will get the kids' phones out of their hands and onto the charger during class," Giel said.
It will take some time to get multiple charging stations built and set up around various parts of the school.
"There will be about 20 parts that go into it," Ross said.
Ross hopes to have at least one station up and running before the end of the year and ultimately he hopes the class builds many more in the years to come.
The location of the stations is still undecided, but the stations would be placed in areas where students spend most of their time.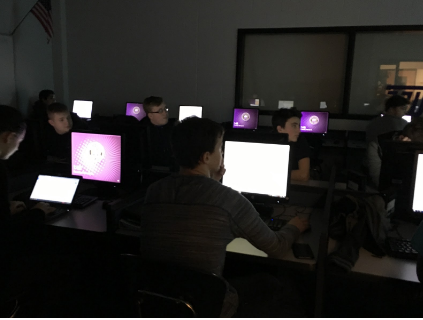 "We'll survey the kids and see where they will benefit them the most," Ross said.
While the project is being built at the high school, Ross believes he and the class will be able to build some for Harrison Middle School as well.
"Maybe we'll make a few for this building and have others at Harrison too. The goal right now is to get at least one done by the end of the year and then mass produce them by the next fall semester," Ross said.