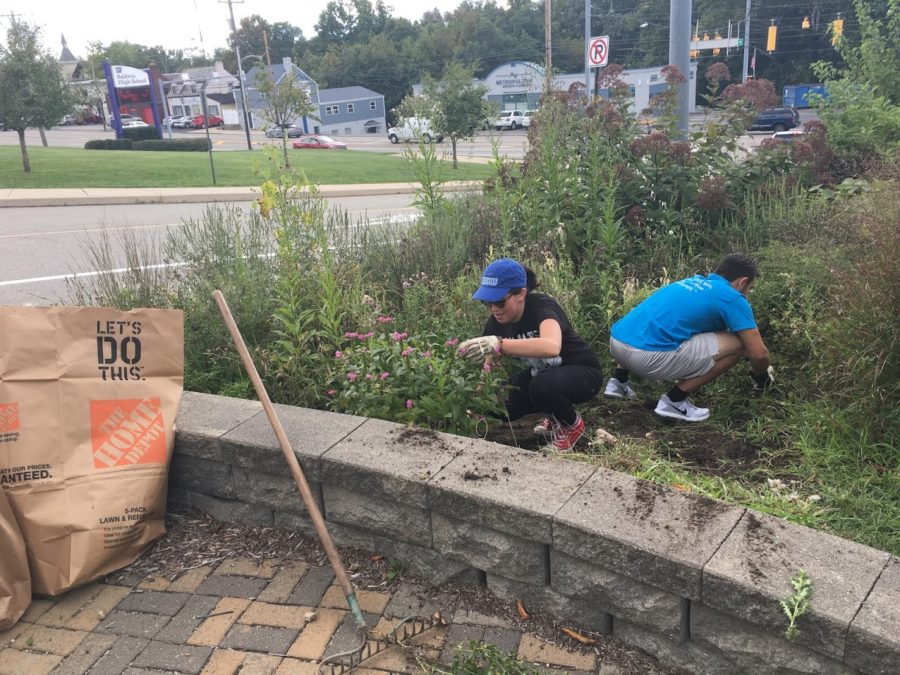 Thanks to students from Baldwin and the University of Pittsburgh, the rain garden in the front of the school has begun to bloom again.
The rain garden, technically known as a bioswale, was installed in front of the school in 2013 to reduce flooding problems in the area. The idea is that the garden collects excess rainwater, keeping it from contributing to flooding by recycling it into the surrounding soil and plants.
The school was given a $20,000 grant from the Port of Pittsburgh to create the garden, which took the work of about 50 volunteers, including Baldwin biology students, to complete.
But over the years, weeds and other destructive plants have started to grow there. This fall, work has begun to clear out that damaging growth.
The Key Club and other interested students have been working together to clear the weeds that have grown in the rain garden. Key Club sponsor Caroline Babik became involved with the project due to her love for gardening.
"I live in the city and have major gardens in my backyard," Babik said.
Many dedicated students have joined the garden cleanup project, Babik said. Though their meetings are irregular, every interaction helps.
"We want to get everybody involved," senior Cassidy Harms, one of the students involved in the cleanup, said.
Lisa Werder Brown, executive director of the Saw Mill Run Watershed Association and director of environmental initiatives, reached out to assist in the work on the bioswale.
Brown invited 32 University of Pittsburgh students involved in the Pitt Make a Difference Day program to the high school, where they learned more about the bioswale's purpose and ways to keep it in good condition.
The students worked for three hours weeding, retrenching the inlets along the road, and pruning, Brown said. The organization provided the students lunch, as well as instruction.
She hopes to meet with students from Baldwin as well to keep a steady focus on the project. Brown and the rest of the students hope to clean the rain garden and turn the garden of weeds into something better.
"Together we can develop a plan for them to help with the maintenance moving forward," Brown said.
The Pitt students responded well to the project, many commenting on how it was the most exciting and informative Make A Difference Day project they had participated in.
With all of the young people getting involved in the project, the future looks promising. Interest from the youth is the key to the planet's future, according to Babik.
"This is our home. We don't have anywhere else to go. Mars isn't ready for us," Babik said.